Mister Congeniality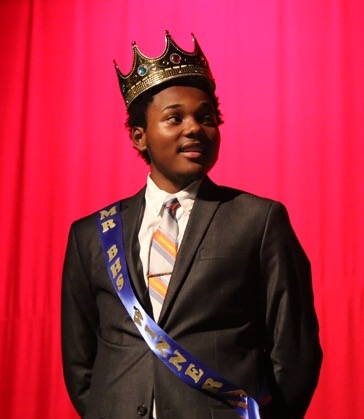 For three years, James Bowie High School has crowned the most spirited and talented senior boy to be known as Mr. BHS. This year, the title was awarded to senior Brandon Kitchin.
Kitchin, along with 12 other senior boys, battled on March 26 in a competition of class, talent and Bowie pride. The night was eventful, but Kitchin stole the show with an impromptu pep rally in the auditorium.
"We are going to do a pep rally right now," Kitchin said on stage, followed by the audience going crazy.
Kitchin had already impressed the judges and audience with a fantastic drum routine, but switched things up and brought on his fellow senior drummers Sterling Schlangenstein and Jonathan Flores to give Bowie its final pep rally of the year.
"I said 'let's make this an opportunity to have a fun time', so I did," Kitchin said.
During the pep rally, the cheerleaders and Bowie Belles went on stage to give it the full Bowie hype experience. Kitchin was thrilled, and the audience was fully invested. Everyone joined in for the crowd favorite "Turn Down for What".
"To perform, you have to give energy, and if you give energy and they give energy back, then that's a performance," Kitchin said. "I gave it my all and they gave it back."
With a combination of the judges scores and ticket sales, Mr. BHS 2015 was awarded to Kitchin. The crowd went wild with applause and cheer. Kitchin thanked his fellow drummers and his escort, senior Pearl Pham, and the Senior Class for their help in making this all possible for him.
"Being able to represent Bowie High School and have fun with my friends on stage felt really good," Kitchin said. "It was an amazing experience."