Homecoming Royalty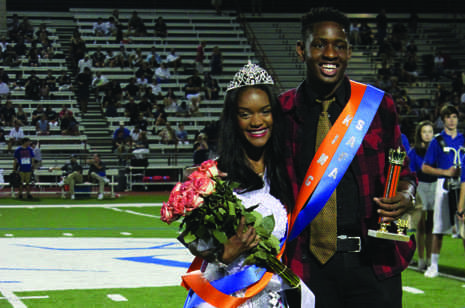 Two students left the homecoming game looking like royalty on Friday, August 29. Seniors Esosa Oyemense and Briannah Collier were crowned Homecoming King and Queen after a successful, yet hurried campaign trail.
Because homecoming was held during the first week of the school year, a frenzy of campaigns ensued. Social media and posters were needed in order to get the word out. Oyemwense started the hashtag "#BowieLovesSosa" to raise awareness. Collier, with the help of her friends, posted a huge number of campaign posters all around the school.
"We had to do a ton of things at one time and stay after school a lot," Collier said.
After the first round of votes, the final three candidates for King and Queen were announced and the campaign continued.
"I didn't want to overlook anyone," Oyemense said. "I didn't want to be too confident."
The next step was the ceremony during halftime at the Homecoming Game. Both Collier and Oyemense were escorted by their mothers. When the winners were announced, the stands were filled with applause and celebration for the new homecoming royalty.
"My mom didn't even notice when my name was called," Oyemense said.
Both winners thanked their friends and family for the amount of support and help. Their start to senior year proved to be a crowning one.