Out Of This World: NASA HUNCH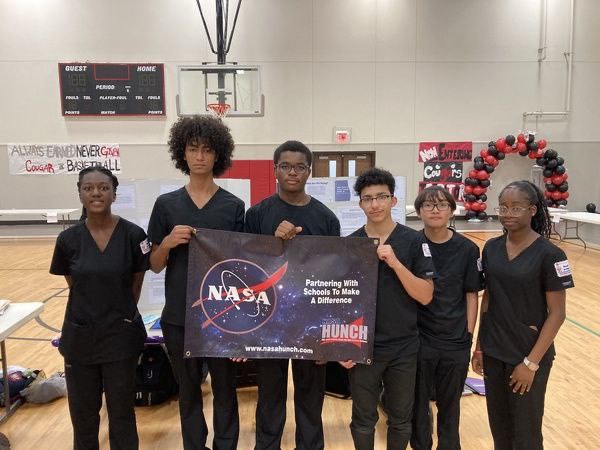 Here at our very own school, a group of P-Tech students work together to solve a problem that's out of this world, literally!
 P-Tech was invited by NASA to develop solutions for problems astronauts face in space and participate in HUNCH (High Schools United with NASA to Create Hardware) which you can learn more about at NASA HUNCH.
The students have a guided coach from NASA itself and meet up with other students to produce hardware items for the ISS.
By working together, both organizations can support students successfully achieve their main goal: problem-solving in the field of health science.
"You don't really know what a student can do unless the student has an opportunity to show you what they can do," Brandi Johnson, P-Tech admin and assistant principal, said.
In doing this, students have opportunities to earn a scholarship and gain skills in critical thinking, research, and problem-solving.
"I'm excited to see the product that they create," Johnson said.
Sophomore Jeffrey Eromonsele and others are finding out a way to transfer IVs in an environment such as zero gravity.
Eromonsele was even able to email an actual astronaut and get a response in order to grow in learning and perfect the craft.
"For a 10th grader to actually be talking to an astronaut and interviewing them to learn is amazing," Johnson said.
"That's gonna take to you success, to make you more successful in any field." Johnson said.
The research they are doing involves constructing a prototype involving a peristaltic pump that they are currently working on.
On November 4, students from various schools currently working in HUNCH traveled to Lewisville to present their solutions and their prototypes.
"Overall, we did pretty well," Eromonsele said.
Sophomore Andy Vu and his team are in charge of improving the mental health and feeling of isolation of astronauts as they venture off into space.
"The experience is really nice," Vu said.