UIL Marching Band Winning!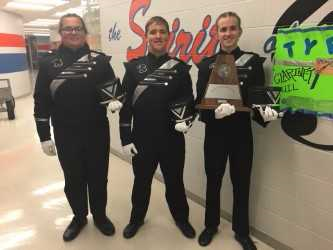 The Bowie High School marching band earned 1st Division at UIL Marching competition October 17 in Mansfield.
UIL is an organization that creates rules for and administers almost all athletic, music, and academic contests for public primary and secondary schools in Texas.
Drum major Isaiah Grose, junior said he had so much fun and was joyful about the rating. The band put in many hours of practice to earn the high rating.
"It was very stressful, but the performance was easy," Grose said. "We had to focus on our tempo and staying in pattern with everyone else to make everything work out well."
Junior Bree Miller said she she practiced a lot so the competition wouldn't be as hard and had a lot of fun being around the others as well as winning a high-rank for their work.
"I love marching season," Miller said. "We had to stay focused and think about good outcomes from performing well, which we did and everything amazing."