Graduate goes all the way 2012 alum gets drafted to the Buffalo Bills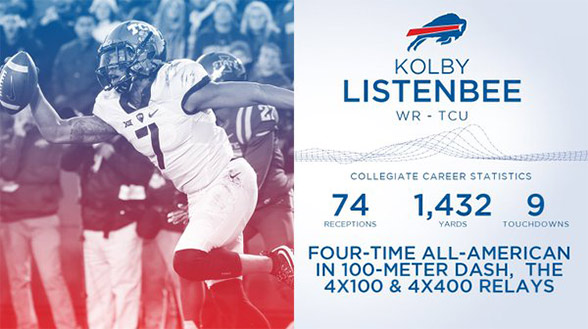 On April 30, 2016 the Buffalo Bills selected Kolby Listenbee from Texas Christian University. Kolby was drafted in the 6th round as the 192nd pick of the 2016 NFL Draft. Kolby is an Arlington native and attended Bowie High School. Kolby is 6'0 tall and ran the second fastest time in the 40 yard dash for wide receivers in the NFL Draft with a 4.39 seconds.
Kolby had 74 receptions for 1,432 yards and seven touchdowns in his college career at TCU. Kolby was an All-American track star at TCU, he also got invite to try out for the Olympics Team but decided to play football.
"It's a crazy feeling to get the call..to go to the team that I wanted to go to and just being out to live out my dreams is a blessing." Listenbee said."My goal right now is to get healed and learn this playbook."
Listenbee is working out a sports hernia injury and is scheduled to return to the field for training camp this summer.
"Once I get back on the field I want to work hard and try and pick the vets brain so I can make an impact to make the people who skipped out on me regret their decisions. Listenbee said. "The way I got here is God. Humbling myself and working hard."
Listenbee played football and ran track in high school. He was the starting quarterback his senior year.
"Never feeling satisfied keeps me constantly thinking about ball whether it's just laying in bed thinking about different ways to run routes or the play calls."