Champions of the 8 lanes
Varsity Track boys win 4×4 at Texas Relays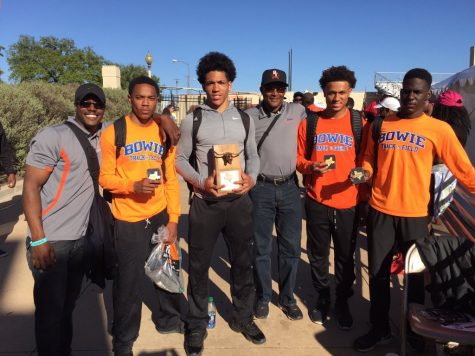 The boys track team are ranked number one in the nation for the 4×4. On March 31 the track team traveled to the University of Austin to compete in Texas Relays 2016. All the qualifiers competed against about 100 different qualifying teams from all over the US . Bowie prepared for this competition all season on and off the track. Everything did not go as planned for the team during Texas Relays however they still managed to come out on top.
"If I could change anything about Texas relays, I would change, we dropped the stick in our 4×2 and we had a good chance in that and then we had a bad handoff in our 4×1 which we had a chance to win but we came back and we won the 4×4 so everything was good," junior, Kobe Daniels said.
The boys took the win in the 4×4 relay against Martin, Desoto, Duncanville, Houston, Strake, and Jesuit.
"After winning the 4×4, it just felt amazing because I mean the whole day and throughout the whole season Texas Relays was a hot spot, the finals of Texas Relays 4×4, it's just always going to be good competition and going into it we knew we had a good team. Knowing that I was on anchor leg I was going to be put with Martin who has a good anchor leg and so I stressed over the whole race. Crossing the line knowing that I actually won it and all the training and all the work and all the stress, it all worked out. It was just a feeling that I can't describe,"
junior Darien Porter said.
Coach Campbell is one of the track coaches that influences the team. They look up to him and work hard to make him proud in every race they compete in. However winning is not the only thing that makes him proud.
"Coach always talks to us about the process, it's the process of how we get to the end, it's not about the ending result, it's about how much work we put in and what we do to get to the end,"  junior Brayden, said.
At districts the boys placed second in the 4×4 and 4×1 against Martin, they got first with a personal record of 12:03 in the two mile, first in long jump and discus, and the girls won the 4×1.