Pay it Forward
Teacher's way of spreading positivity
The English hallway was decorated with posters hanging from the ceiling saying "We love English" and had streamers all along the walls.
On Friday November 20, 2015 a pay it forward tradition begun. The foreign language department began in the English hall with the drumline and continued throughout the school chanting "English Rocks!"
"Since Bowie is such a large school and there have been so many new teachers on campus over the past few years, it has been very difficult to form a bond as a faculty," Spanish teacher Sharlaine Sierra said.
The foreign language department decided to choose the English department because it was the closest subject to their language. The idea quickly exploded into a week of secret appreciation activities with the grand finale. The foreign language teachers revealed themselves that Friday and what their mission was.
"I felt loved and apprecia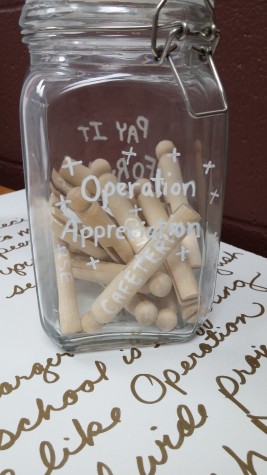 ted by both the teachers and the kids," English teacher Doris Morehead said. "I was hyper for the rest of the day."
After the English department were recognized they drew the science department and appreciated them with a luncheon. Science department then recognized the Math department by having their students write notes to their math teachers and how they appreciated them. Departments have been appreciated by snacks, small gifts, choir serenade, step team performance, and much more.

Teachers plan on continuing to do the pay it forward every school year so all teachers will feel appreciated and create a enthusiastic work environment.