Making musical history
Andrew Martin, senior, member of Volunteer V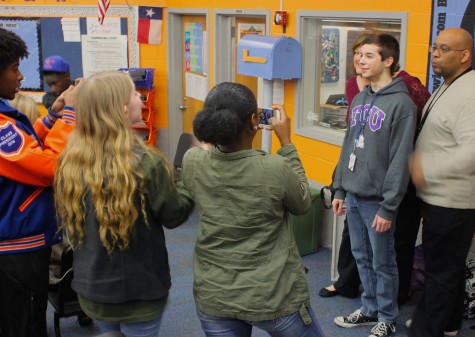 oices, and choir officer has done what no Bowie choir student has been able to do in 16 years. Andrew has reached the All-State men's choir.
Martin is the first Bowie student, and the first student for choir director Jermaine Lobaugh, to reach All-sState since 2000. Reaching All-State has been Andrew's goal since Jr. High when he made regional.

"I never really thought that I would make it since freshman year, but now, knowing that I have been the first in such a long time, and being the first for Mr. Lobaugh, it's crazy." Martin said.
Martin had come very close to All-State level in his previous years but had never reached his goal. In past years Martin has also been a bass two, the lowest range in male vocals, and he never had the full bass sound that the judges were looking for. However, this year The choir directors, Jermaine Lobaugh and Karen Batsel, decided to place him in baritone, the middle range for men's choir, and Andrew really pulled through.
"The previous three years, he has auditions with as a bass 2, but his voice in that lower region just isn't the big All-State sound that we as judges are looking for once we get into those final rounds, so he's always come up short. This year we moved him to baritone and it allowed him to have a much bigger sound and add that with his musicality and it just turned out really well," Lobaugh said.
With this achievement under his belt, Martin hopes to earn a Scholarship for music, so that in the future he can become a choir director. Andrews future looks to be a bright one.
"I plan to go to UNT for music education, because I want to be a choir director." Martin said. "That's my big goal now. Hopefully with making All-state I can earn some scholarships."