Teens for Jeans
Do you have old jeans or jeans that don't fit you anymore? And have no idea what to do with them? Teens for Jeans is a way that everyone can help out the community by donating all kind of jeans from kids to adults size for those people who need it. The organization started out as a theater service project about six years ago.
The organization is sponsored by Aeropostale. Each year, the school have an excess 1000 pairs of jeans. So far we have raised more than 300 pairs of jeans. The sponsors who are in charge of this community project service are Mr. Blount, Ms. Rudy, Ms. Trimble, and the Headliners. It's open to any bowie student who want to donate jeans. Mr. Blount himself donated couples of jeans last year. The year that had the most pairs of jeans was the second year the organization had started, with about 1,000 pairs of jeans.
Six years ago theater teachers were looking for a service project and there was a couple of students who found out about the Aeropostale service project, a student who worked at Aeropostale heard of it as well, so he went and got the information on what was required. It has worked so well over the past six years so they decide to continue doing it.
"To all Bowie students, please participate and help make the difference in people's lives," theatre arts teacher Kevin Blount said.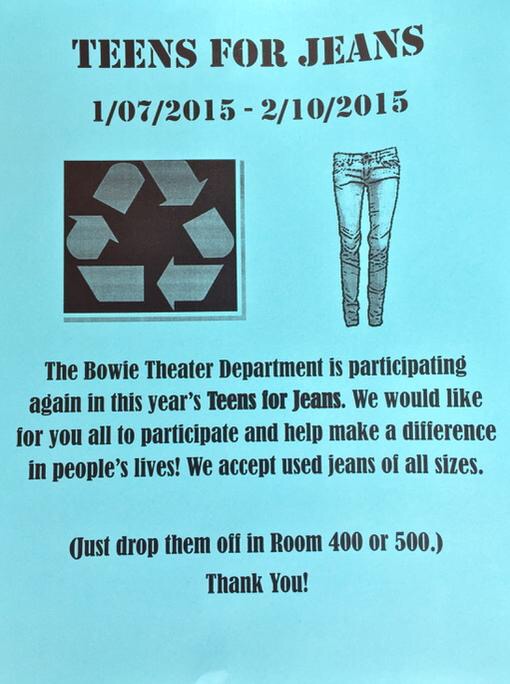 The reason why Teen for Jeans so important is because when people enter a homeless shelter often, they don't have more than the clothes they're wearing. In fact, the number one item that young people request when they visit a homeless shelter is a pair of jeans and jeans can be worn multiple times before washing and are an important item of clothing to help everyone fit in.
According to Aeropostale, their teams work with their local communities and over 10,000 schools who register to hold jeans drives. In addition, there are more than 1.5 million homeless teens and children that need help.
Young Hollywood has done their part too. Over the years, Demi Lovato, Kiristen Bell, Chloe Grace Moretz, Justin Long, the casts of Pretty Little Liars and many, many more have shown their support to the organization. In fact, The school or organization that collects the most pairs of jeans will win $5,000 and a private school concert by The Vamps!
The Bowie Headliners raised and donated over 75 pairs of jeans to Aeropostale.