Teacher of the Year: Mrs. Schwertz
Bowie High School has announced this year's Teacher of the Year as math teacher Susan Schwertz. We asked her a few questions and this is what she had to say.
When did you start teaching?
"I started here in the fall of 2000, but I taught in a public school since 96."
What do you teach at Bowie High School?
"I'm basically the Statistics teacher, so I teach AP Statistics, IB Math Studies and Independent Math-Studies."
Did you expect to win teacher of the year?
"Mhmm, you know I had a lot of good competition, and so you kinda want to, but you know there's a lot of good teachers on there, so no."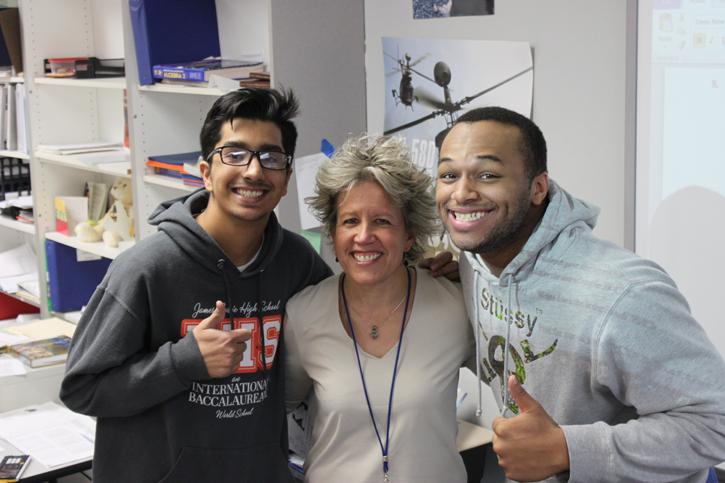 How did your class react? 
"Oh my gosh, they were excited because they got about 15-20 mins of no instructions so they were happy about that. They seemed pleased."
What is the most enjoyable thing about teaching?
"Having an impact on young people."
How would you describe your teaching style?
"I believe to start students up by what they know and what they don't know. Teaching is that bridged and how to get to the new concept, and so you gotta start small and get big. I believe teaching is like going to church, because at time people have to repeat what I have to say."
When you started teaching, did you believe you would be here?
 "No my attraction was to teach at the private school my children are going to. And I interviewed for a job to be a fourth grade math teacher and they had me come sit in a fourth grade teacher's room while she was teaching and all I could do was look around thinking 'oh my gosh, I would have to decorate my room, and no, I never want to teach in an elementary school.' *laughs* I don't wanna decorate my room."
How was it seeing your students grow from beginning to the end?
"Oh I love it. I love it when I see my students, especially when several years ago when I had them as freshmen and again as seniors and I told them I was their bookend  teacher. And it was really great to see that I had them for Geometry and along the way they learn Algebra II and Pre-Cal, then I had them for Statistics and so I got to take what I told them to apply it to Statistics and I love it when I have my Algebra II students and we do a little Algebra II in Statistics. I think it's wonderful to see how they grow and they come back and they visit and they tell me what they're doing and you see them become young men and young ladies. Thats my bonus check."