Wrestling team brings back state medal
For the past 21 consecutive years, the wrestling team has gone to the state competition. Every single year somebody has placed. This year, the wrestlers competed in Houston, Texas. Freshman Adam Kilgore placed 7th at 170 pounds, and Junior Taylor Parks placed 3rd at 132 pounds.
"It feels amazing the fact I'm a freshman and I'm going this far," freshman Adam Kilgore said.
Most of the wrestlers came into wrestling not knowing the sport. Learning most of the rules and techniques from the coaching team of coach Ervin, coach Laswell and coach Mudgett.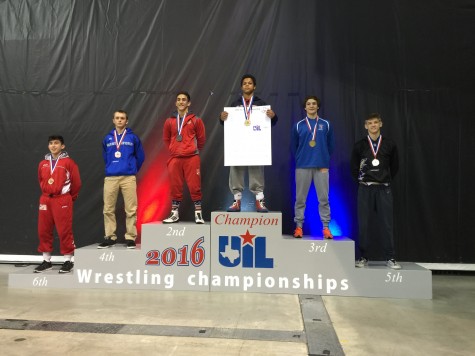 "I put all of my time and effort into wrestling by practicing three to four hours everyday," Junior Taylor Parks said. "I'm very good at keeping my weight in check."
With conditioning and practicing back to back for weeks proved to be challenging but the wrestlers were able to push through it. Some said they wanted to give up and just quit, but persevered when they remembered why they were doing this. Some remembered Byron Hill, a former wrestler who passed away in 2012. They remembered how he would have loved to be at state with them, and that this would have been his dream too. They wanted to live his dream for him. For others, it was the brotherhood that enabled them to push on. When somebody was wanting to give up, they would help encourage that individual.
"Wrestling is the oldest and toughest sport known to man, but if you accept the challenge of being a part of it, it will make you a better and more prepared member of society," wrestling coach Ervin said. "This sport teaches you to push yourself, break down barriers, and overcome defeat.  Dan Gable, a famous coach and wrestler says it best,  'Once you've wrestled, everything else in life is easy.'"